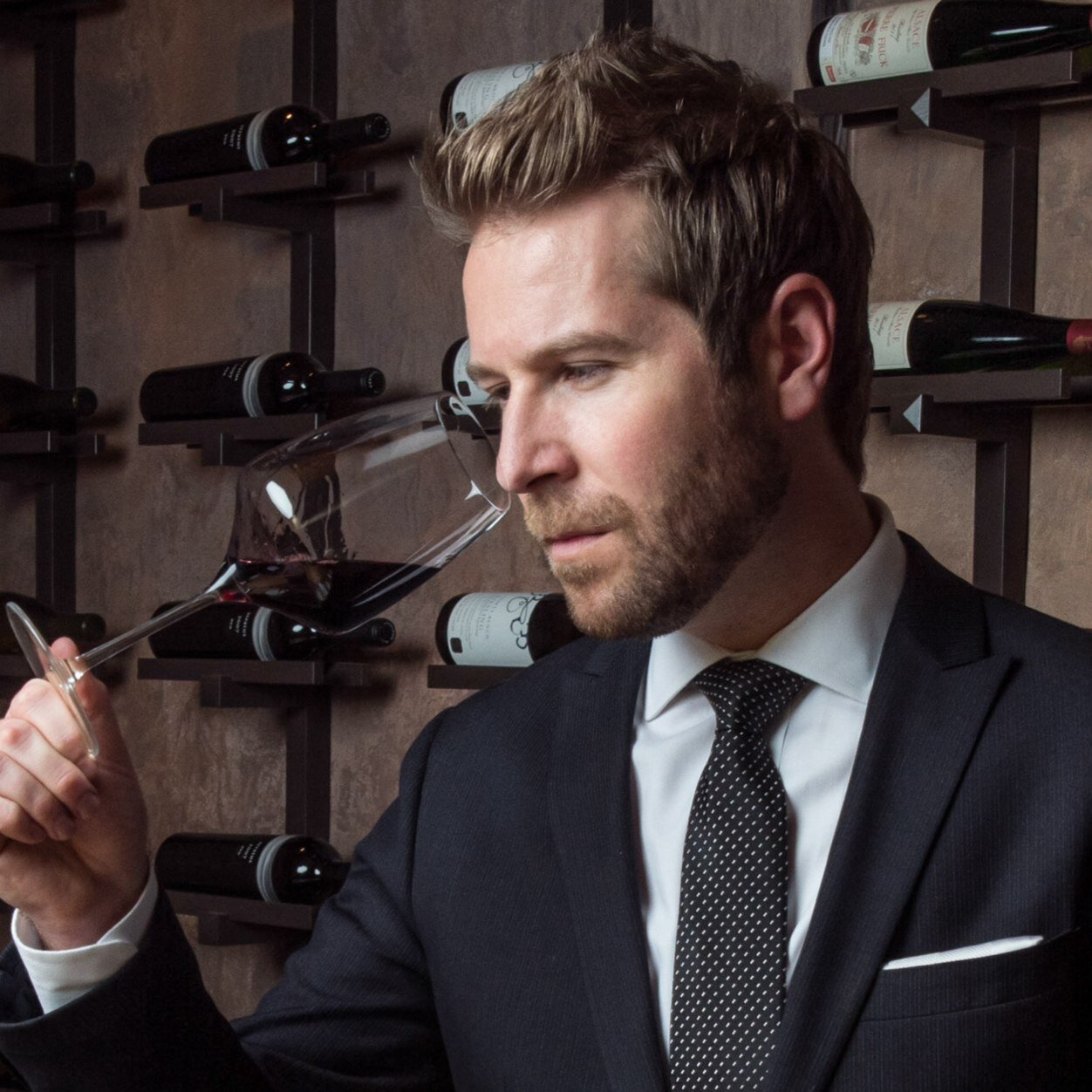 Drew Walker, wine director at Café Boulud & D Bar in Toronto's Four Seasons Hotel.
Where did you grow up?
I grew up in Niagara, in Port Dalhousie, with my parents Bruce and Nancy, and my older sister Kate.
Tell us about a time when your life was different?
When I was 19 years old, I lived in the Caribbean and worked long hours as a bartender in a great little bistro in the Cayman Islands.
It was my first experience in the food and beverage industry, and it shaped me quite a lot.  I learned so much from the older, more professional staff members who taught me how to work hard and contribute to the team.
What was your first wine experience?
My first (memorable) wine experience was at the Queen's Landing Hotel in Niagara-on-the-Lake, when I attended the Ontario wine gala Cuvée. As I was tasting Malivoire winery's 1999 Moira's Vineyard Chardonnay, it suddenly all clicked!
I could taste the caramel apple, toasted oak, cinnamon, butter and I realized that I might enjoy this 'wine tasting thing,'  I think I visited their booth twelve times that evening!
Tell us about the first time that you were hired as a sommelier.
It was a Friday night in the late fall of 2008. I was working at a restaurant in Niagara as a waiter, and the interview was scheduled right in the middle of dinner service.
I had to leave the floor during my break, and went to my car as it was the only quiet place to talk. There I was, sitting in my old Honda Civic interviewing for a position at Daniel Boulud's celebrated Lumière restaurant in Vancouver.
The general manager concluded with, "You're the last piece we've been looking for." I packed my bags and hopped on a plane the next day.
How did you get involved with wine professionally?
I've been involved with wine and restaurants in some capacity my whole professional life.  While I was in university, the seasonality of the wine industry was a perfect fit for me, as I had lots of time in the summer.
I was a part of the opening team at Peller Estates Winery Restaurant.  I learned so much from our team who was comprised of experienced Toronto wait staff, many of whom had managed restaurants for Susur Lee, Oliver and Bonacini, and others. I was young, curious and inexperienced. I loved it!
Did you consider other occupations?
Wow… I don't think about that very often.  Ideally, I'd be working in the sports industry, it's one of my other true loves.
What advice would you give a young sommelier starting out?
I would advise that they don't forget what it means to be a sommelier. The wine industry is growing quickly and there are all kinds of jobs available to those who aspire to work in the wine industry.
However, restaurant sommelier jobs are both rare and specialized. It's a thrill to work the floor in a dining room, and provide memorable wine experiences for guests. I'd also advise them to trust their own instincts, and travel whenever possible.
There is an amazing groundswell of sommeliers here in Toronto working very hard to achieve great things. We're going to be seeing a lot of new talented faces, and the sommelier community here is a very close group.
Any tweet, or public shout out, is always followed by a dozen text messages by other somms happy to share each other's achievements.  It's exciting.
What's the best piece of wine advice you have ever received?
It's better to drink premier cru wines with your friends, than the more coveted grand crus with a bunch of know-it-alls!
Which new winery is impressing you the most?
One of my favourite up-and-coming producers is a Canadian winery, Marichel. They have eight acres of vineyard on the Naramata Bench in B.C.'s Okanagan Valley.
Their land has an entirely different energy from others in the area. The owners, Richard and Elie Roskell, till, prune and harvest every acre, by hand, themselves. You can feel that the vines are happy.
The majority of their vineyard is planted with Syrah vines, which I feel is the Okanagan's most successful grape. The wine displays strong notes of anise, black pepper and rich vibrant fruit.
From producer to producer, the expression of Syrah in the valley is consistent, although some vineyards are able to show a different level of purity and precision. Each vintage shows me something new and exciting about the potential of their terroir.
What are you passionate about aside from wine?
Cooking, travel, sports-fitness and chicken wings (!)
Describe your wine list at Café Boulud.
Our list has some 450 labels that exude the character of the appellation, but they also have delicacy in order to pair with the complexities of the chef's menu. We have fifty or so Canadian wines, and about 120 French.
Working with a wine program in a Daniel Boulud restaurant is fantastic because we showcase wines from all regions around the world.
Our oldest bottle in our collection is an esteemed Bordeaux, the 1947 Cheval Blanc, acquired at a wine auction last October. The wine from this vintage is often regarded as the most significant and influential wine made in the twentieth century.
I was sitting with the Four Seasons' general manager and he urged me to bid on it. My eyes lit up like saucers—really?! To hear the auctioneer bring down the hammer and shout, "Sold!" with our paddle number, was amazing.
Like many wine lovers, I have often wondered what it would be like to try a wine with such historical prowess. It's priced at $15,000 on our list.
What was the most surprising fact you uncovered while researching your wine list?
The producer, Villa Ponciago in the Beaujolais village of Fleurie, has been making wine since 949 A.D.—more than 1000 years!
What wine would you open to celebrate Mother's Day?
I would love to open my 2005 Edmond Vatan Clos la Néore Sancerre, a Sauvignon Blanc celebrated for its power and finesse, from France's Loire Valley. The Vatan family has farmed this two-acre walled vineyard in Monts Damnés since 1959.
Now that Edmond Vatan is in semi-retirement, the wines are becoming harder and harder to find. One of my mother's favourite dishes is an asparagus quiche with goats cheese and fresh dill.
This wine's aromatic profile offers a clear definition of citrus and stone so its vibrancy and minerality would be a luxurious pairing with the hints of green asparagus and silky goats cheese.
Name your favourite wines for a spring Sunday brunch.
My feeling is that all brunch gatherings should start with Champagne. Sunday is either the beginning or the end of the week, depending on your take, but each is cause for celebration.
Lighter reds from Beaujolais and the Volnay region of Burgundy also work well.  You want something that has a pretty, open, aromatic profile, but not too heavy or high in alcohol.  It's important that you don't feel too light headed after brunch, because someone has to remember to put the roast in for dinner!
One of my favourite brunch dishes is eggs benedict with caramelized onion potatoes. I'd pair it with a silky Chardonnay with a strong depth of fruit and an integrated oak frame. With eggs benedict, you don't want to serve a Chardonnay that is too cold.
As the wine warms in temperature, its layers of complexity begin to unfold one after the other and the flavors linger.  I would select our 2010 Ramey Hudson Vineyard Chardonnay from Carneros, California for $50.
What's the toughest brunch food to pair with wine?
Salads are tricky; any food with vinaigrette is always a gamble. The flavours in a vinaigrette can be so delicate, and if you factor in the crisp texture of the lettuce, high acidity, and the pinch of salt, you've got a high stress situation.
I love Ontario Rieslings with fresh greens and vinaigrettes because their acidity balances well, but does not over power the subtle flavour of the greens.  Smoked salmon is also a challenge and often we reach too quickly for an oaked Chardonnay.
This isn't a bad pairing, but I prefer something a little lighter with freshness such as Verdicchio from Castelli de Jesi in Italy's Marche region.  At their finest, these wines have subtle tropical notes, and a light texture that coats the mouth, but also cleanses.
What's been your most memorable moment in the restaurant?
The day before we opened, four hundred cases of wine arrived at the hotel. Our sommelier, Jordan Alessi, and I were literally flooded with wine.  It took us all night just to unpack and sort the bottles, but now our cellar feels like home.
Who's the most famous person who's dined in your restaurant?
We've had many famous celebrities and politicians dine with us, but the biggest thrill for me was Thomas Keller, chef-owner of America's best restaurants such as Per Se in New York and the French Laundry in Napa Valley.
I've had so many of my best dining experiences in his restaurants, so it was an honour for all of us to try to do the same for him at Café Boulud.  When he visited the kitchen, the whole brigade stopped what they were doing and ran to join a group photo.
Chef Keller tweeted it to Daniel Boulud in New York—I'll never forget that night.
What's popular right now for wine regions and grapes?
Italian wines are having quite a run in the spotlight and that makes sense because there are so many different styles and varietals to explore in that country. Toronto diners have moved from drinking full-bodied Amarones to more stylish Barolos and Brunellos.
Next up, are the fresh modern whites from the northern mountainous region of Trentino Alto Adige.
Do you have a guilty pleasure wine?
My guilty pleasure is over-priced Tuscan reds.  I'm a sucker for them when buying wine for myself.  I always think, "Okay, this one is going to blow my mind."  They never do.  They're always very enjoyable, but I still haven't found that wine that is an altogether different gear.  But I keep looking.
If you could share a great bottle of wine with anyone, who would it be?
My father.  He passed away when I was 20.  I think he would really enjoy the same things about wine that I do.  The conviviality that develops when you share a memorable bottle is an amazing feeling.
I would love to open a bottle of 1998 Domaine Pegau Chateauneuf-du-Pape with my dad.  It's a wine to savour.  It has so much personality and depth—I hope we'd share two bottles together and keep talking.
What's the best moment of your day?
I enjoy the streetcar and subway commute to work as I love the morning and like to see the city in motion at the beginning of the day. But I also love the end of the day and especially sitting down to a quiet 1 a.m. post-service beer.
Who would you like to be stuck on an elevator with?
Christian Moueix, as long as we also have a bottle of his 1961 Château Pétrus and a corkscrew.
What's your favourite neighbourhood and why?
I like different neighbourhoods for different reasons. That's one of the luxuries of Toronto.  It's easy to travel from the Danforth to Queen West in search of your favourite patisserie.
What kind of traveller are you?
I suppose it's inevitable that I like to travel to wine producing regions.  My next stop will be Argentina.  I can't stop reading about the vibrancy and energy of Buenos Aires.
If your home were on fire, what would you grab on your way out?
My Scotch collection. I'd be devastated if I couldn't finish my Douglas Laing & Co. bottling of the 1991 Caol Ila single cask.  It's one of only 289 bottles made.
What is your favourite way to procrastinate?
I love watching baseball.  It's quite a time commitment, but I almost can't live without it.
What do you consider your greatest accomplishment?
In my early 20s, I made it to the Canadian National Dart Tournament … I think I focused on the wrong things during university.
What special bottle is in your personal wine cellar at home right now?
Jacques Selosse Cuvée Substance Champagne. Apparently, "our" plan is to open it on our 10-year anniversary.  I'm negotiating for our 5 year celebration.
Drew Walker
Wine Director – Café Boulud & dbar
Four Seasons Hotel Toronto
60 Yorkville Ave, Toronto,
Ontario M4W 0A4, Canada
Comments
comments